Dominate your Real Estate Market and create unlimited growth in Business and Life by surrounding yourself with people who have been where you are going. The HyperFast Agent Podcast will give you access to top business leaders like Gary Vaynerchuck & Grant Cardone, along with Top Real Estate Agents, coaches and industry leaders all eager to share their knowledge to help you achieve success at your highest level. If you are ready to join eXp realty and would like Dan Lesniak Tom personally sponsor you so you have access to two nationally recognized coaching programs text 703-638-4393
Episodes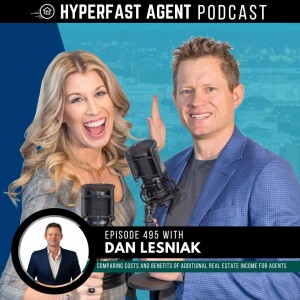 Friday Sep 08, 2023
Friday Sep 08, 2023
Welcome to the HyperFast Agent Podcast with Billion Dollar Real Estate Agents Dan Lesniak and Keri Shull, who are top sponsors at eXp Realty. Ready to become an eXp Realty agent with Keri and Dan? Go to https://whylibertas.com/dan or text Dan directly at 703-638-4393.
Many people are familiar with how to make rental income from real estate, but not as many are familiar with how the revenue share model can generate additional income as well – and perhaps a lot more of it. In this episode of the HyperFast Agent podcast, host Dan Lesniak explores the differences and advises on what you might consider placing your energy towards. Like many of the agents he has previously had on this podcast, Dan has earned plenty of income over the years through rental income on real estate he owns. Since he joined eXp Realty in the past year, he has earned a significant amount of income through their innovative revenue share program and has seen many other agents do the same. The revenue share model comes with less liability and requires far fewer capital investment and expenses than rental income.
Join Host Dan Lesniak as he discusses…
∙ How much rental income a real estate agents typically earns per property each month
∙ The liability, time, and work that you take on as a property manager
∙ Why revenue share is a better value proposition to invest your energy
∙ Why it's important to consider gaining income from both revenue share and rental income
QUOTES TO SHARE
💬 "If someone put a gun to my head said you had to pick one, either revenue share or rental income, hands down, it would it would go to revenue share" - Dan Lesniak
💬 "Revenue share, I think is the best business opportunity that I've seen in my lifetime." - Dan Lesniak
💬 "It can grow quite substantially beyond your own efforts." - Dan Lesniak
💬 "There's no expense, there's no liability and no upfront capital other than the $145 it costs to join exp Realty." - Dan Lesniak
If you are ready to join eXp realty and would like Dan Lesniak To personally sponsor you so you have access to two nationally recognized coaching programs text 703-638-4393.
KEEP UP WITH US HERE
Website: https://hyperfastagent.com 
Instagram: https://www.instagram.com/HyperFastAgent/ 
Facebook: https://www.facebook.com/HyperFastAgent/
Twitter: https://www.twitter.com/hyperfastagent 
LinkedIn: https://www.linkedin.com/company/hyperlocal-hyperfast/ 
OUR OTHER EXCLUSIVE YOUTUBE CHANNELS 
The Keri Shull Team: https://youtube.com/kerishullteam 
Dan Lesniak - https://www.youtube.com/danlesniak
► LEARN FROM 
GRANT CARDONE, GARY VEE, BILLY GENE, AND OTHER REAL ESTATE & MARKETING SUPERSTARS ON THE HYPERFAST PODCAST
CHECK OUT RECAPS FROM OUR TOP SELLING EVENTS
WATCH KERI AND DAN SPEAK TO OTHER TOP AGENTS
THE BOOK THAT HELPED 10K+ REALTORS
GET DAN'S BEST SELLING BOOK FREE
INTERESTED IN TAKING YOUR REAL ESTATE BUSINESS TO THE NEXT LEVEL?